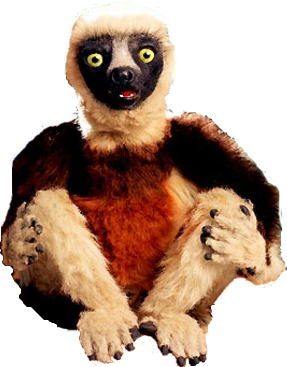 One of the main characters along with chris and martin kratt. his species is a sifaka lemur. He usually doesn't talk until he eats a snack such as kiwi, grapes, bannanas, papayas, walnuts, mangoes and celery. He also invented Zobooland, a place where almost anything's possible. He's also caretaker of Zobooland and keeping the peace as Zoboo the Super Lemur. His friends in Zobooland include Sensit, Snow Lemur, Slimantha, Narchi, Gooble, Bugly, Noggindrill and Wiggy Waxwing.
Known for being funny, he often just had trouble with power tools and occasionally makes his own inventions. Making many friends along his journey of animal discovery, he made friends with animals such as Toothbrush the Asian elephant, Shark the chameleon, Moonface the barn owl, Jagwater the jaguar, Snowstorm the snow leopard, Braniac the chimp and Splish and Splash the penguins. He also has an arch rival named "The Itch" that hung over Animal Junction in season 1, and can only be repelled by the ancient Malagasy chant:
Faloooma Man Di Handi Ha Ranna ma Fanna
Falooma Man Di Handi Ha Ranna ma Fanna
Vookie vay Kitchu salama Tuku
Matsy Vookie vay Kitchu salama Tuku (x2)
Saloooma Da Ge Handi Ho Hey Hoo Hubba Hubba
SalooSalooma De Ge HanSalooma De Ge Handi Ho Hey Hoo Hubba Hubbadi Ho Hey Hoo Hubba Hubbama De Ge Handi Ho Hey Hoo Hubba HubSalooma De Ge Handi Ho Hey Hoo Hubba Hubbaba
Ad blocker interference detected!
Wikia is a free-to-use site that makes money from advertising. We have a modified experience for viewers using ad blockers

Wikia is not accessible if you've made further modifications. Remove the custom ad blocker rule(s) and the page will load as expected.